New Patients
We are pleased that you have chosen us for your medical care and are looking forward to providing the best possible comprehensive health care for you and your family.
As a new patient with Cornerstone Clinic we want to ensure that your visit is a pleasant one. Please review the items listed below as we feel that they will help your visit to flow more efficiently.
Please download & complete the following New Patient forms. Print and bring the completed forms with you to your appointment:
Please arrive 15 minutes prior to your scheduled appointment – This allows us enough time to get you checked in and completely registered before your scheduled appointment time. If you arrive late and cut into your appointment time, we will do everything we can to work you in. However, sometimes the schedule does not allow us that flexibility, and in that case your appointment will need to be rescheduled.
Please bring your most recent insurance card(s) – This ensures that we get your claim filed in a timely manner.
Please bring your valid driver's license or photo id – This helps us to securely identify you. Insurance cards do not have photos on them.
If you are taking prescription medication, please make sure to bring in your medication bottles – This allows us to accurately enter the correct dosages and medication into your chart.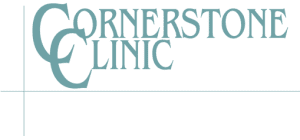 Cornerstone Clinic is a group of board certified Family Physicians and Nurse Practitioners who practice broad spectrum family medicine. We care for infants, children, adults, geriatrics, and four of our doctors provide full obstetric care with a family oriented philosophy.
INSURANCE QUESTIONS
Our insurance department staff members are available to assist you with any questions you may have regarding the status of a claim or payment on a claim. Those staff members can be reached at one of the following numbers:
For patients with last name beginning with:
FREDERICKSBURG LOCATION
 Fredericksburg Address
514 W. Windcrest St.
Fredericksburg, TX 78624
 Phone: 830.997.0330
 Fax: 1.888.289.2493
 Fredericksburg Hours: Monday - Friday:
8:00 AM - 5:00 PM
COMFORT LOCATION
 Comfort Address
815 Front St.
Comfort, TX 78013
 Phone: 830.995.5633
 Fax: 1.888.289.2493
 Fredericksburg Hours: Monday - Friday:
8:00 AM - 5:00 PM